Problem Solved: Outdoor Audio for Any Space
by Andrew Formica, on May 14, 2021 7:58:15 AM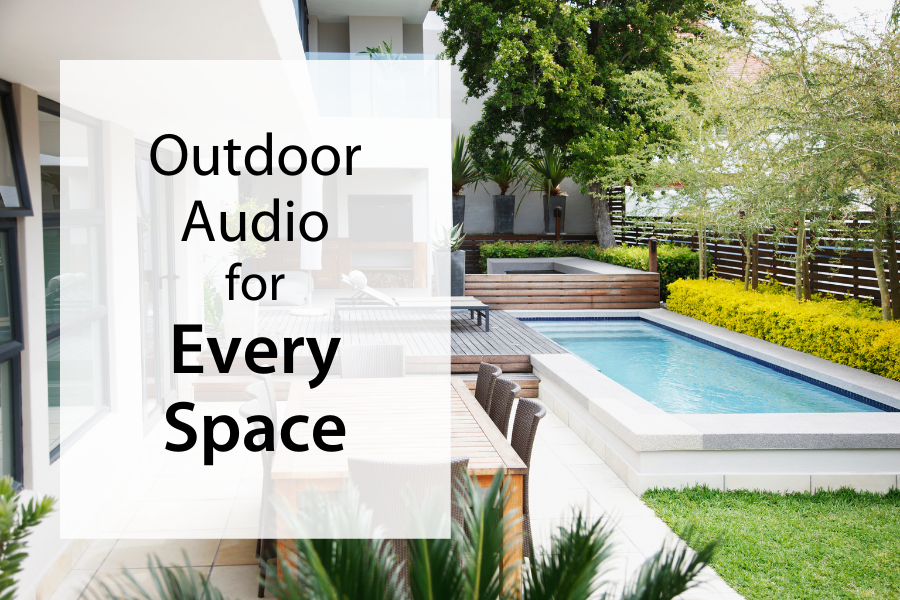 The weather is beautiful outside and it's the perfect time to think about how premium audio will enhance your outdoor area. When you consider your options, how do you take into account the constraints of limited space, unusual landscaping, or unique architecture?
It may surprise you, but there are many ways to solve each of these challenges. That's why we put together custom solutions like the ones you'll see below. No matter if it's a patio, deck, landscape, or pool, these audio systems can solve the problems you're facing, are best-in-class, and are sure to impress.

James Loudspeaker is renowned for audiophiles that want something "extra special." Their sound quality is unparalleled for both indoor and outdoor areas. Custom is their specialty, particularly when it comes to fit and finish, so your aesthetic vision is never compromised.

The Omni Series, shown above, allows for a single above ground unit to do the same job as multiple landscape speakers sprinkled around your outdoor space. This is because they offer true omnidirectional sound in a single enclosure. They are perfect for a space where above ground installation is needed, while blending seamlessly into your environment. You should also consider these speakers a perfect fit for rockscape areas where traditional satellite/subwoofer combinations cannot be installed, or open seating areas where space is limited.

If you love custom work, James Loudspeaker is the best on the market. These speakers are available in a variety of sizes, with or without planter options. Not only that, but the skilled craftsmen at James Loudspeaker's facilities in Minden, Nevada can deliver a seemingly unlimited number of color choices and finishes. If you can imagine it, chances are they can make it, because custom is their specialty.

No matter your exact needs or the particular challenges you are trying to overcome, there are a variety of creative answers. That's why you will love solutions like under eave speakers, or wedge speakers fitted to a 90 degree corner where two walls meet. There are also small aperture speakers designed to discreetly sprinkle across hills, paths, fountains, rocks, and more.
When it's time to deliver concert-level sound at home, don't just pick enormous speakers with large amounts of power. Instead, consider something like the James Loudspeaker Outdoor Tower Speakers. These freestanding speakers are the best in the business and are sure to impress. They are particularly great for spaces that can't accommodate direct burial speakers or where you might place the speakers at the end of a space, aimed toward a gathering area.

Are you building a shore home? Are you concerned about how your outdoor speakers will withstand the elements over time? Choose durable, high end speakers like the Coastal Source Bollards. These speakers were developed in the Florida Keys and are built to withstand the harshest weather. That's why they are built with premium materials and utilize custom wires and connectors to ensure longevity and reliability. Not only that, but they conveniently bury in your yard and sound amazing, as well.
Not sure where to begin? Our designers are ready to help you plan the outdoor space of your dreams. Click the link below to schedule your free consultation today.