FrameBar: The Missing Piece to Your Frame TV Puzzle
by Springboard Automation, on Aug 18, 2023 9:40:40 AM
Samsung's Frame TV, with its artful design, has been a significant addition to modern interiors. However, its slender design means audio performance may not match its visual prowess. FrameBar by Leon Speakers fills this gap, delivering potent audio while aligning seamlessly with The Frame's aesthetics.
Why FrameBar?
The essence of FrameBar is a symbiosis of The Frame's design and superior audio. It's ingeniously crafted to elevate auditory experiences without overshadowing The Frame's visual appeal.
FrameBar Highlights:
Customized Design: Tailored for a perfect fit with any The Frame TV 43" or larger.
Sound Excellence: Drawing from Leon's esteemed HzUT soundbar, it incorporates 2.5" prime woofers (optional 4") and 22mm cloth-dome tweeters within a 2.375" deep cabinet.
Sleek Installation: Designed for a flush mount, it upholds The Frame's minimalist spirit.
Diverse Finishes: With options like White, Black, Brown, and Beige, it matches any shade of The Frame by Samsung.
Personalized Touch: Beyond its default elegant black fabric grille cloth, a selection of designer grille fabrics is available for customization.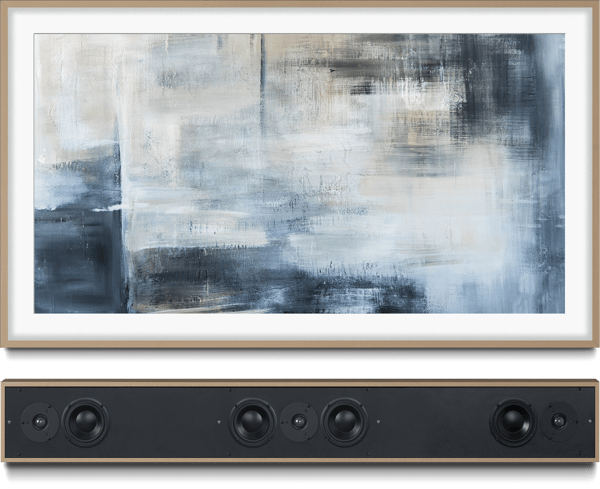 Upgrade Your Audio
To amp up your movie nights or jam sessions, consider adding a subwoofer and rear speakers to the mix. With the FrameBar leading the charge, this combo brings out the deep bass and surrounds you with sound, making every action scene more thrilling and every song more alive. Best part? You get all this enhanced audio without turning your room into a tech jungle. Everything fits in smoothly, so you keep that sleek, beautiful look you love.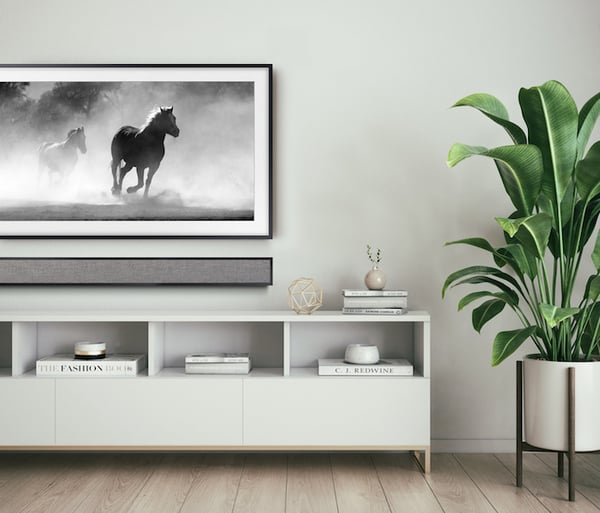 Dive Deeper into Leon Speakers
For two decades, Leon Speakers has seamlessly fused art with audio innovation. Originating from Ann Arbor, Michigan in 1997, this family-run venture has evolved with a team of over 60 professionals. Their groundbreaking custom speakers and technological solutions have set new standards in residential and commercial audio experiences. If blending innovation with design is on your agenda, diving into Leon Speakers' range is essential. In summary, for those seeking unparalleled sound without forsaking The Frame's elegance, Leon Speakers' FrameBar, especially when complemented with architectural speakers, stands unmatched.
Interested in learning more, or booking an in-person demo in our office? Call us today: