5 Must-Have Features Your Clients Want This Summer
by Andrew Formica, on Apr 14, 2022 11:36:42 AM
Ensure a Successful Project and Plan For These Must-Have Summer Amenities From The Start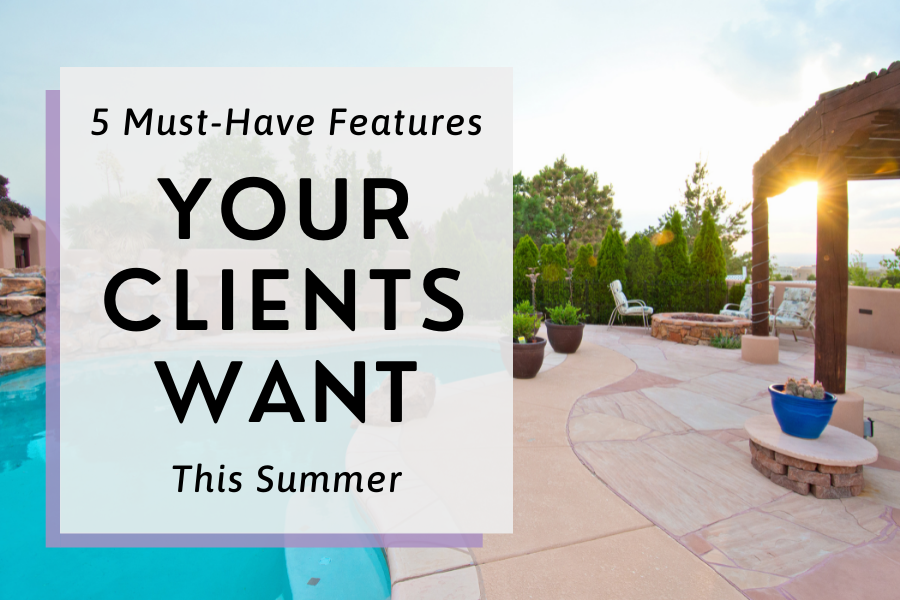 If you don't consider the technology that will go into your client's home from the very start, you risk frustrating them with off-schedule construction, re-opening walls, and haphazard planning. Instead, impress your clients and be a trusted resource all the way to the end of the project by carefully considering their home's technology from the very beginning of your plans.

Here are five ways to elevate the outdoor experience of your next project into something extraordinary. These custom solutions will work in any space, from large residential landscapes to backyard patios, and even urban roof decks. This summer, let us help transform your client's outdoor space into something magical.

Great WiFi can reach beyond the walls of your house, but doing so requires planning. Now you can watch your favorite shows, video chat with friends, and stay connected with the world and office without missing a beat.
Our WiFi technology is state-of-the-art. We use wireless access points that intelligently aim the WiFi signal toward the area of your home it's needed most. Your mobile devices, tablets, computers, and other smart home devices receive the best signal possible, unlike with other brands. Next, we use the latest networking cable to connect your wireless access points directly to the router, so your WiFi operates at full speed no matter where you are.
Constant dropouts and interruptions are a thing of the past with our outdoor WiFi solution. If you think the backyard will be a later phase of the project or something for "down the road," you risk ending up with dead spots or areas of the home where your client's devices simply will not function. Partner with our network experts to ensure your clients enjoy the best WiFi experience possible.
There's no better way to relax this summer than to spend time with your friends outside and have your favorite music playing. With intuitive smartphone controls, you can play your music wherever you desire most. As you roam from inside to outside or from your deck to your fire pit, your favorite tunes play seamlessly everywhere.
It doesn't matter if your home is large or small, we have systems for every size and space. For large yards, even coverage is more important than booming volume. If you simply turn up the volume on a pair of large speakers you will drown one area with unbearably loud volume while barely reaching others. Instead, sprinkle multiple small aperture speakers throughout your landscape.
We consider every detail from how you use the space to aesthetics, sound quality, and more. Where seamless design is important, we can even match the color of the speaker grills to the surrounding area in places like porch deck ceilings.
Avoid unnecessary landscaping hurdles and in-home wiring challenges by planning your outdoor space correctly from the very start. Installation is prompt, and our designers are ready to help.

Depending on the sunlight and unique features of your outdoor space, there are many factors to consider when selecting an outdoor TV. Without proper planning, you may end up with undesirable viewing angles, or worse still, a washed out image at certain times of the day or year. Our designers will help you choose an appropriate brand with a finish and brightness that will suit your space, viewing angle, sunlight exposure, and more. Moreover, we will consider your video sources so that your home's wiring is planned correctly from the start.

The popularity of investing in life at home has brought a new focus to outdoor lighting. By enhancing your outdoor space with beautiful landscape lighting, you can enjoy new entertainment areas, transform your atmosphere and mood outside, and create new memories with friends and family. Whether it's path lighting, accent lighting, wall washes, niche art lighting, or even tiki torches, an artistic outdoor lighting design is an investment in pleasure, safety and curb appeal. Integrate it into your whole home control system for added convenience and enhanced comfort.

Pool and spa control can be seamlessly integrated into your custom home. The interface is intuitive and luxurious with premium systems like Savant that are designed to present the best possible experience available to luxury homeowners. By leveraging Savant, you can easily adjust water temperature, control pool lights, activate jets, and even create personalized "scenes" that trigger all of these with your favorite music, too.

We would love to be part of helping your clients relax at home this summer and it starts with a free consultation—on the phone, through video chat, or in person. We will ensure they receive great service both before and after installation. It's not just WiFi, audio, and TV entertainment, it's support too. Our systems are reliable, and if there is ever an issue, we are just a phone call away.