Poof. Invisible speakers finally achieve uncompromising sound.
by Andrew Formica, on Nov 2, 2020 8:57:53 AM
Coming this December, achieve the look and design of your dreams with Invisible Speakers. For the first time ever, there's no compromise when hiding sound out of sight. When installed correctly these speakers are completely undetectable in a finished space. They are literally invisible.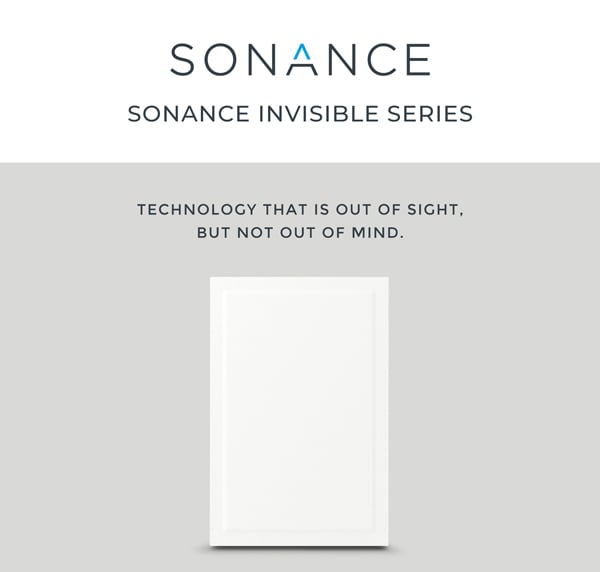 Literally invisible.
No longer do you have to balance your design and aesthetics with the technology that goes in your home. Crystal clear sound can easily fit right into your plans with these invisible speakers.
Are you outfitting your bedroom with traditional decor, and you desire rich sound, too? Check. How about your minimalist shore home, where everything must be hidden? Check. What about fitting impressive ceiling speakers into your lighting plan? Problem solved.
Invisible speakers are the pinnacle of the Sonance "Designed to Disappear" strategy. They're so good, it's no wonder that they were awarded CEDIA's Best New Product Award for 2020.
More ways to hide sound in your home.
Behind your favorite art.
Seamlessly blend art and technology with rich sound that emanates from behind your favorite painting with the Leon Ente Soundtile. Choose from hundreds of fine artwork choices in a curated media gallery with a beautiful frame of your choosing. Or use artwork from your personal collection.
What's really neat about this is the internals. A Sonos Amp powers these surprisingly powerful speakers. The artwork you choose is printed directly onto perforated metal that can be customized to suit any décor. Finally, the speaker and art are then mounted flush to the wall for a perfectly clean look. You'll love the sound, and you'll really appreciate how your music seemingly comes from nowhere.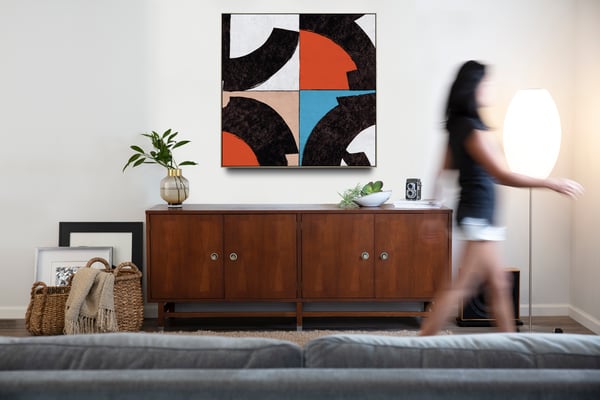 Small and discreet.
Are you looking for elegant ceiling speakers that don't compromise your lighting plan? If this sounds like you, then you're probably tired of large ceiling speakers with thick bezels (did someone say 90s?). That's why you should choose small aperture, trimless ceiling speakers. You'll be delighted with how seamlessly they blend into your room, especially when they are the same aesthetic and size as your overhead lights.
That's why we love collaborating with architects and designers to develop a lighting and sound plan concurrently. You can achieve perfect results like seen below with Sonance Architectural Series speakers. For a great upgrade pick, check out James Loudspeaker's Small Aperture speakers that are both small in size and rich in sound.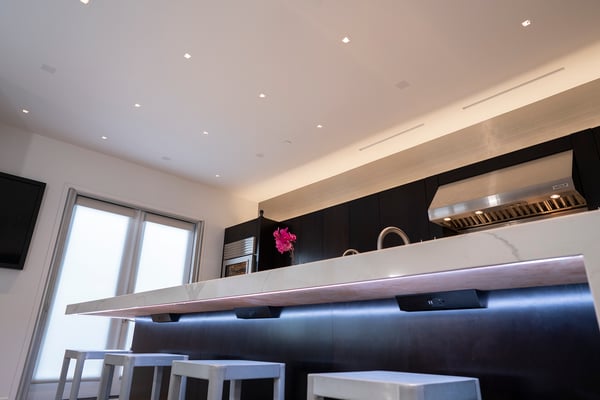 Cinema Sound at Home.
Have a television that needs similar treatment?
Then start with a soundbar that fits flush with your TV and matches its width perfectly. There are two ways to do this, though—one that will look and sound amazing, and another that... well... won't.
Most dealers offer you a soundbar with a grill that seems to match the size of your TV. It's "custom" and looks like a perfect fit, so it's premium, right? Wrong. What they don't tell you is that behind the grill is a smaller speaker. The ends are actually hollow, and the grill is simply deceiving you. Of course, this means that when you and your family gather for movie night, your soundbar sounds a lot weaker than it should. Don't put a large grill on a small, mismatched soundbar.
Instead, choose a soundbar that's custom built to match the exact television of your choosing. Not only does it seamlessly fit your space like no other soundbar, but they sound incredible, too. That's why we love the work that our friends do at Leon Speakers. Their Horizon Series is custom built for the television you have, and the internals are strategically designed and crafted to produce unparalleled sound.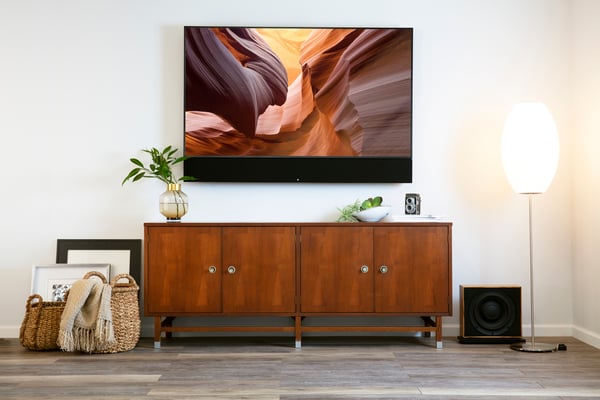 Looking for more ways to hide sound? Explore a variety of creative solutions with an expert home automation specialist. And while you're at it, get to experience the all new Sonance Invisible Series today, before they're released to the public.