From Ordinary to Extraordinary: A New Standard for Luxury and Lighting Control
by Andrew Formica, on Dec 8, 2020 8:27:50 AM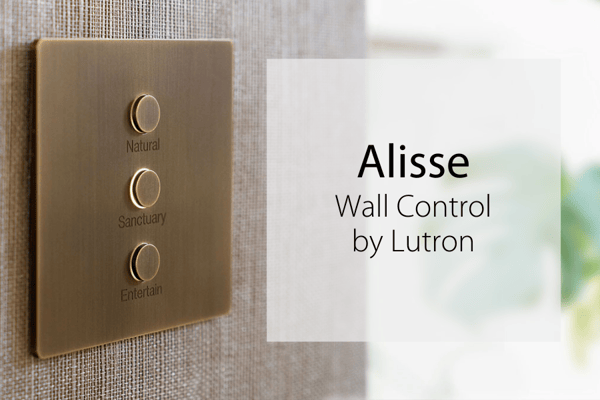 Timeless and Elegant
Advanced and intelligent lighting control is only the beginning when it comes to dimmers, switches, and keypads. What you might not know is that they can be an essential element in every room, due to their luxurious aesthetics, refined craftsmanship, and premium materials. Generic, plastic light switches are commonplace, but you don't have to settle.
Introducing the brand new Alisse wall control by Lutron. Now, you can open your shades and turn on your lights with distinctive smart controls that embody luxury and elegance.
Alisse is shipping today. It offers the same intelligent and convenient lighting control that you know Lutron for. But it goes even further with timeless design that is both intuitive and personalized to your tastes.
---

Extend your aesthetic to every element in your home. The Lutron Signature Metal Collection is exclusive to Alisse. It offers a sophisticated finish palette that compliments other decorative elements within your home's interior. Hand-crafted with meticulous attention to detail, the Alisse wall control delivers a unique lighting experience that's both seamless and essential to any room.
The Signature Metal Collection is curated to coordinate with a range of interior styles. These handcrafted metals are available in polished, brushed and painted finishes.

---

Just because you desire the convenience of smart lighting control doesn't mean you need to compromise your aesthetics. Alisse begins with precise craftsmanship and genuine materials, but finishes with elegant button illumination.
No matter the time of day or night, enjoy easy and intuitive control that is customized to your lifestyle. Of course, if you're traveling, you can control your lighting from your smartphone, too.
---

Complete your wall control with tailor-made button layouts and custom engravings. Don't just use text with your buttons. Personalized engraving allows you to enjoy illustrative icons, also defined by precise etching with complimentary ink. Moreover, Alisse offers custom button configurations that deliver a personalized experience to meet the functional needs of your space.

---

Are you designing a home and want to see how Alisse or another distinctive keypad from Lutron will help? Partner with an expert home automation specialist. Learn how intelligent wall controls will add convenience to your daily living and a touch of luxury, too. Contact us today, and ask as many questions as you like. We are happy to help and look forward to hearing from you!